My wife and I love to travel. Every opportunity we get to leave our city, we take advantage. Whether it's a short weekend trip, or a trip to Europe of South America, we're always down! Now, I have to say that this was pre-baby, so we've slowed down a bit with long-range travel. While we haven't been to Europe or South American since our little guy was born, we still think it's important for children to not only become comfortable with the travel process, but as they get older exploring new, exciting cultures will be key to their development as good world citizens. While we haven't traveled to foreign lands with him since he was born, he does get the opportunity to fly multiple times per year, so flying is nothing new to him.
Traveling to Banff and the Canadian Rockies has always been on our bucket list ever since we met ten-plus years ago. Living in Miami, we've always felt as if it was a bit of a challenge to get there, though. In hindsight, it's safe to say that while our travel route was not the most direct and ideal, Banff and the Canadian Rockies are just as accessible as any of the other destinations we've traveled to.
Now, fast forward to traveling to Banff and the Canadian Rockies with a toddler and that shakes things up a bit. While the route is the same, there are certainly challenges along the way that parents should be aware of.
Most parents searching Google and travel forums for helpful tips and insight on whether traveling with a toddler to Banff and the Canadian Rockies will likely find similar answers. That yes, it is VERY common to see toddlers and small kids in this region of Canada and that it's not a remote rural land. Of course, you can easily choose to trek in any direction in the mountains and be within miles of a major road or convenience, but that's not the case with most travelers to the Banff area.
I'll do my best to outline our route to Canada, as well as what you can take advantage of in Banff and the Canadian Rockies, and what might be best avoided.
Getting to Banff and the Canadian Rockies with a Toddler
As mentioned, we were flying from Miami, where we currently live. Based on our schedules, flying direct to Calgary was not an option, unfortunately. In the end, our route from Miami took us to Calgary by way of Denver. For anyone that has traveled with a toddler, you know all-too-well that the most direct, shortest route, WITHOUT a layover is ALWAYS best, but not always possible. In our case, we needed to stop in Denver. Let's see how this goes.
Update! Read one of our latest posts about finding the right travel stroller that's best for your style of travel!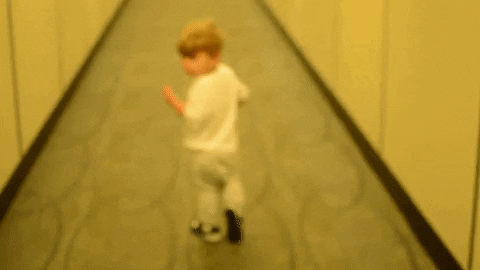 The flight from Miami to Denver was an early morning flight, so Little Guy slept the majority of the way. YAYY! Upon landing in Denver, the 3 hour nap had him all refreshed and ready to take on the day. Unfortunately, he didn't know that he had to take another flight from Denver to Calgary. BOOO!
We did our best to distract him on the next leg of our journey, but with toddlers, your efforts are oftentimes futile. When they see something they want, or get an idea in their head, you can explain the negatives and why he or she cannot do something until you're blue in the face, but that's not gonna stop them or prevent a tantrum.
About an hour of the 2-plus hour flight was filled with my wife and I doing our best to distract and entertain him. The remaining time was spent walking up and down the aisle with him. He noticed the flight attendants doing so, so he figured he should be able to as well. Makes sense.
All-in-all, the journey to Calgary wasn't too bad. A long trip with a toddler, but possible. In most cases, the older your toddler is the easier it should be because you can start to reason with them. In our case, our son was about 20 months old, so the ability to reason isn't really there yet. If you have the opportunity and ability to keep the route as short as possible, this is highly recommended.
We Made it to Canada!
As with all international travel, you'll need to pass through some gauntlet of border security before you can start to enjoy your trip. While on the airplane, you would have already filled out your declaration card, which will then be presented to Canada Border Services Agency (CBSA) at various checkpoints throughout this process. From what I recall, there were two checkpoints. Expect this process to take at least an hour depending on how many other flights are arriving at the same time as your flight. All inbound international flights have to pass through the maze of CBSA fun.
Again, with a toddler, and as an adult, this is not a fun process, so expect to put on your smiling face with your toddler and do your best to entertain them in the oftentimes sterile border control environment. Don't expect the border agents to crack a smiling or silly face at your kids either. These guys mean business.
After about an hour of slow-pace walking through the control line, we finally passed through border security and were allowed to collect our luggage at the carousel.
TIP: If you've checked larger items like a stroller or car seat, don't expect it to come through the luggage carousel. We waited nearly 30 extra minutes before realizing that larger, over-sized items come through a different area, on the opposite side of the terminal. Hey, at least they weren't lost.
After passing through CBSA and grabbing our bags it was time to grab our car. We've started to use Turo in some cities because it's super cost effective. For those that don't know, Turo is the AirBNB of car rentals. You can list your car on Turo to be rented by travelers. Conversely, you can rent from other car owners. Pretty much any type of car is available through Turo, and just like renting from a traditional agency, you can choose options and length of rental time. From what we've seen the cost can be dramatically lower. In our case, where we were renting a car for a full 7 days, the cost on Turo was about $150 compared to a traditional car rental agency where the average cost was closer to $350. No-brainer.
Let's head to the Rockies!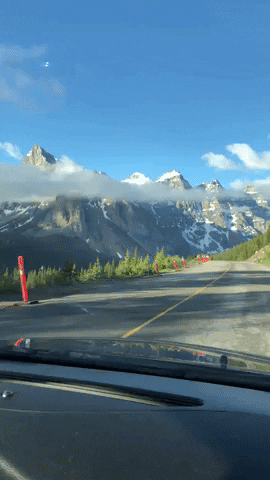 At this time, as you can imagine, everyone was a bit tired from traveling from the early morning hours. It was around mid-day when we arrived in Calgary, and our plan was to grab the car and continue on to our first destination: Canmore. Little Guy quickly feel asleep in the car which made the drive easy. From Calgary to Canmore the drive is just over an hour without traffic.
Canmore is a great alternative to staying in the town of Banff. Actually, in my opinion, it's a bit more quaint and less touristy than Banff. You'll be surrounded by the same views, so no loss there. Canmore is a surprisingly metropolitan town with a small town, rural feel to it. Plenty of shops and restaurants to keep you entertained when not hiking or exploring.
Let's Explore Canmore, Banff, and the Canadian Rockies with Our Toddler – The Fun Part!
Back home, we have plenty of baby and toddler equipment to fit just about every situation, landscape and terrain. When traveling, however, you need to do your best to pack as light as possible and only take what's necessary. I did some research before the trip and found that most parents that visited Banff and the Canadian Rockies previously suggested to bring a small umbrella stroller, instead of a travel stroller like a Gracco or similar. We had planned to rent a hiking backpack (more on this later) to take along hikes, so figured any time we were strolling around town or on flat land we'd just use the umbrella stroller. This worked out well.
While the umbrella stroller is not the most comfortable to push around (I'm 6'2), it was lightweight and easily packed away when not needed.
After settling into our hotel in Canmore, we decided to grab some food in town, test out the hiking toddler carrier (more on this later), and plan to wake up early the next morning and head to Moraine Lake. Moraine Lake is located in the Lake Louise area, and about an hour drive from Canmore. From what I remember we woke up around 6AM to be there at 7AM. This worked out great. Traveling in June, you're arriving just before peak summer season, so it's best to be there early to beat the crowds, if possible. However, even though we weren't in the thick of peak season, crowds still form at all major hikes and landmarks as the day goes on.
Moraine Lake with a Toddler and Small Children
Arriving at Moraine Lake you'll see a decent size parking lot just ahead of the entrance to the park. Parking was easy since we arrived early. We grabbed our cameras, Little Guy, and the hiking backpack. After loading my son in the carrier and strapping it to my back and quickly realized this was not going to be as easy as those amazing stock product images make it look. It's VERY possible that I didn't have the backpack adjusted correctly based on my measurements and my son's, but it was immediately pulling on my shoulders. However, I wasn't going to let a little discomfort distract me from these views…
We spent the morning hiking around Moraine Lake, which happened to be the highlight of our trip. So much so that we not only stopped their at the beginning of the trip, but made a second stop at the tail end as well. Truly amazing.
Hiking Moraine Lake with a toddler isn't too bad. If you have a hiking backpack, you can hike the Rockpile Trail up to the peak to get an amazing view of the lake. The hike up wasn't too bad considering this was my first time hiking with a toddler on my back. Oh, did I forget to mention this was my first time hiking with a toddler on my back?? Yes, it was.
If you're like me, and jump at the chance to give your shoulders a break, you can hike the perimeter of the lake too. There are trails that make the walk easy. This is where you can let your toddler explore a bit more. There are some areas of rock piles and little streams that you'll need to be aware of, but in general, the perimeter is a great way for your toddler or kids to burn off some energy.
Is Moraine Lake safe and a good hike with a toddler? In short, yes! Please don't hesitate to visit this amazing lake.
Lake Minnewanka and Two Jack Lake with Your Toddler
The next day we woke up early again (we're early risers) and decided to drive down to Lake Minnewanka and Two Jack Lake. Lake Minnewanka and Two Jack Lake are part of the same lake system, and along the same road. Both area about 20 minutes or so from Canmore, just off of the Trans-Canada Highway, which makes it very accessible.
This is an easy ride from both Banff and Canmore, and there's plenty of space for you to let your toddler roam a bit. There's a lake (obviously), some picnic tables, and camping nearby at Two Jake Lake. After another attempt at setting up my hiking backpack, we head out for the day.
The sun was just coming over the mountains when we made it to Two Jack Lake, so this made for an amazing landscape. Take advantage of the peaceful surroundings and, if you're there early enough, no crowds. We were able to take advantage of being alone on the lake for about an hour. This meant just listing to the wilderness around you and the sound of your son throwing little pebbles into the lake.
At Lake Minnewanka there's a bit more space for your toddler and kids to run free. As with many of lakes, there are some small steps or ridges down to the lake in some areas, but these are easily noticable and shouldn't take you by suprise.
There's plenty of land for your toddler and kids to run around, pile small rocks, climp on broken tree branches, and get close to the lake.
Is Lake Minnewanka and Two Jack Lake a good hike and trip with a toddler? Yes! Don't hesitate to visit.
Johnston Canyon with a Toddler
Johnston Canyon with a toddler can be a bit tricky. For most of the trail you're walking along a catwalk style trail. Heading up the trail, the mountain is on your left, and the canyon is on your right. The canyon below is steep, so I would definitely keep kids in close sight, and if you have a toddler, it's best to keep them in your hiking backpack if you have one. In our case, Little Guy was getting a bit frustrated being trapped in the backpack for hours on end, understandably. After letting him out on the trail, he would stop to pick up rocks along the way. Normally, this wouldn't be such a bad idea but the trail (in some areas) is a bit tight, meaning that other hikers need to squeeze by in order to pass. When a toddler stops along the way to pick up rocks, this can create a bit of a bottleneck.
From what I recall we were at Johnston Canyon around mid-day. There were crowds and the parking lot was full at this time. While we managed to snag a spot, we were met with large crowds after entering the park. Again, since the trail can be a bit tight in some areas, it seems a bit more crowded than it actually is since we're all jammed into tight spaces together.
Tip! Head to Johnston Canyon as early as possible to try and beat the crowds and make finding parking a bit easier.
Can you hike Johnston Canyon with a toddler and small kids? Yes, but be hyper-aware of your surroundings and know that crowds may make things a bit more challenging.
Hiking Lake Louise with a Toddler
Lake Louise is set in the background of the amazing hotel, Fairmont Chateau Lake Louise. There are separate parking lots for those just visiting the lake versus those staying at the hotel. The visitor lots fills up quickly, so get there early. If the lot fills up, you'll need to backtrack along the highway (a few miles) to another lot where shuttles will shuffle you back to the lake. Luckily we arrived very early and were one of the first to arrive.
Upon walking up to the lake you have the hotel on your right and the lake ahead on the left. It's very impressive and serene early in the morning. We were lucky enough to catch a few wedding photo sessions taking place prior to the crows arriving.
Lake Louise is a great place to allow your toddler and kids to walk freely. Like most of the great attractions in the area, there is likely a nearby lake to be aware of.
When most travel to Banff and the Canadian Rockies they pray to see a bear. They also pray to NOT see one on their hiking trail. We were lucky enough to stumble up this mamma grizzly bear and her two cubs looking for food on the hotel property grass. A very unexpected place, but amazing still. Remember, while this hotel is here for over 100 years, it was still built on their land. So this is their backyard, not ours.
For the most part, there's a paved path that takes you around the lake at Lake Louise. So, if you have a stroller, this is a good time to give your shoulders a rest if your toddler is not into walking around at this point.
Is Lake Louise a good hike and destination with toddlers? Yes, but keep an eye out for bears =)
Peyto Lake Hiking with Toddlers and Small Children
Peyto Lake is a relatively easy hike with a toddler. In our case, Little Guy was in the hiking backpack for 75% of the hike. The trail is paved from the parking lot to the top of the trail, so if you have a stroller, this is a good hike to bring it. When he wasn't in the backpack he was finding little rocks and sticks to play with. Toddlers are easily distracted, so expect the pace to be slowed to a crawl at points.
Most of the trail is uphill and it's a short hike. I believe it takes about 15 minutes or so to get to the top to view Peyto Lake if your little one is not walking on their own.
Is Peyto Lake as blue as it seems in pictures? Yes, see for yourself!
As with most popular trails this time of year, expect there to be crowds. Heading up the trail wasn't too bad, but once you reach the top space is limited, so crowds form. You'll have the ability to stand on top of wooden decking as part of the viewpoint, as well as venture a bit off trail to get close to the edge of the mountain. It goes without saying that you should stick to the marked trail if you have small kids and toddlers for safety reasons. If you do venture off a bit, be sure to keep at least one hand on them at all time if there not tucked away in your hiking backpack.
Is Peyto Lake a good hike with toddlers and small kids? Yes, but get there early to avoid crowds.
The Lake Louise Gondola – Great for Toddlers and Small Kids
The Lake Louis Gondola is a really cool experience. During summer months, the park is transformed from a ski resort to a great place to ride a gondola up the mountain and get amazing views of the Rockies from 180 degrees.
Tip: My wife was able to score a Groupon for breakfast and the gondola ride for a steep discount which made it even more attractive!
We arrived early. In fact, we were the ONLY ones there and thought that the park might have been closed for the day. After confirming they were open, we parked in the first spot and head into the lobby.
After checking in and grabbing our gondola lift tickets we strolled down to the lift. We were greeted by staff and climbed aboard an enclosed gondola. If you're without small kids you have the option to either choose an enclosed gondola or a more traditional open ski lift.
The ride up on the gondola was about 10 minutes. It's common to spot bears and other cool wildlife while heading up the mountain during this time of year, but unfortunately, we didn't spot any.
At the top of the mountain you disembark the gondola then head down to the viewing area where you get an amazing view of the Rockies. There's chairs for you to relax. Even small chairs for those little ones which was really cute.
The viewing area is small, but we were the only ones there which made it really enjoyable. While there's space for little ones to walk around, there's not much to explore once you leave the viewing area. Outside of the viewing area I would say that you should keep a close eye on your toddler since there's some roped-off areas that aren't meant to be walked on. Remember, this is a ski resort for a large part of the year, so expect slopes and steep incline/declines.
Overall the Lake Louise Gondola was a great experience, so don't hesitate to take your little ones. The buffet breakfast wasn't too bad either!
Jasper National Park
Jasper National Park is the largest national park in the Canadian Rockies, spanning 4,200 sq mi. It's located in the province of Alberta, north of Banff National Park and west of Edmonton. As part of our trip from Lake Louise, we planned on spending a few nights inside Jasper. Getting to Jasper is part of the fun. From Lake Louise or Banff, you'll head north on the Icefields Parkway. The town of Jasper is about 4 hours from the town of Banff, but the views you see along the way is what makes the trip so special.
Maligne Canyon Loop Trail
Maligne Canyon Loop Trail was one of our favorites, but you have to keep a close eye on the little ones. Along the loop trail, you'll notice that there's fencing in between the trail and the canyon below. However, we noticed a few holes throughout our trek. So be careful.
Aside from the holes in the fencing that a small person can slip through, there trail isn't paved like many other hiking trails on our trip. Most of the trail is a mix of either dirt trail with random rocks, or steps made out of stone, which can be challenging for anyone at times. Especially after rain or snow when the trail is a bit more slippery.
If you're planning on hitting up Maligne Lake Trail, I would recommend keeping your little one in the hiking backpack as much as possible.
Thinking About Taking a Toddler or Small Child to Banff and the Canadian Rockies? Don't Hesitate. Go!
As with all travel with a toddler, baby, or small child, you need to be prepared. Heading to the grocery store with your little one in your local area can be challenging at times. As we always says, "it's all an adventure". Knowing where and when to go to Banff and the Canadian Rockies is key. Plan accordingly and you'll be just fine. Like us, you'll stay away from the more challenging hikes. But don't worry, that doesn't mean you'll miss out on the major sites and viewpoints. There are no shortage of those. While we were able to check-off Banff and the Canadian Rockies from our bucket list, we plan to go back again someday.
Here are some additional resources for those traveling to the Banff / Lake Louise / Jasper areas with little kids that you might find helpful:
Canadian Rockies forum on TripAdvisor
Banff National Park forum on TripAdvisor
AllTrails – a great resource for finding hikes that best fit your abilities
If you have tips or recommendations for parents traveling to Banff and the Canadian Rockies with toddlers and small children, please leave a comment below. We appreciate it!